If you're looking for a place to enjoy healthy and delicious vegetarian and vegan meals, Health 100, 101, and 102 "Restoreants" are great options to consider. While they do serve some meat dishes, they also have a significant number of vegan options, making it easy for vegans and vegetarians to find something to enjoy.
It's worth noting that the dining facilities at these restaurants are cafeteria-style, offering reasonably-priced food and big servings. However, if you're a vegan or vegetarian, it's important to be careful when ordering and ask questions if you're unsure about any ingredients.
Another great thing about Health 100, 101, and 102 is that they prioritize buying local. They make a conscious effort to source their ingredients locally whenever possible, so you can feel good about supporting local farmers and businesses while enjoying your meal.
Juice & Shakes
In addition to their delicious and healthy meals, Health 100, 101 & 102 also offer a wide selection of refreshing juices, juice blends, and shakes. These drinks are made with fresh, high-quality ingredients and are a great way to complement your meal or to enjoy on their own.
Their juice menu includes a variety of options, from classic orange juice to unique blends like carrot and ginger. They also have green juices packed with vitamins and nutrients, as well as refreshing tropical juices with pineapple, mango, and coconut water.
For those looking for a more indulgent treat, the shake menu offers a variety of options including chocolate, vanilla, and strawberry. They also have unique combinations like banana and peanut butter, or mixed berries with almond milk. All of their shakes are made with wholesome ingredients and are a healthier alternative to traditional milkshakes.
Whether you're looking for a refreshing beverage to enjoy with your meal or a healthy snack on the go, Health 100, 101 & 102 have you covered with their selection of nutritious and delicious juices and shakes.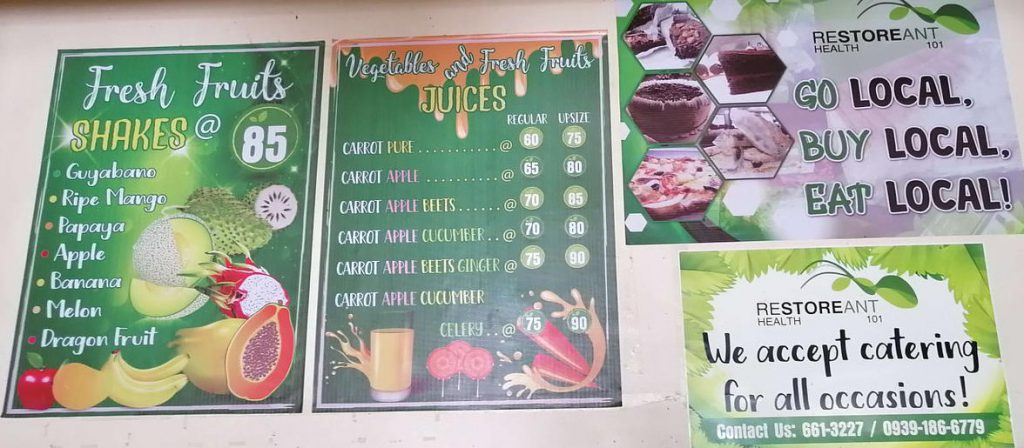 Groceries
Health 100, 101 & 102 in Baguio is a great place for health-conscious individuals who want to enjoy healthy and nutritious meals. In addition to their vegetarian and vegan options, they also offer a variety of grocery items, ranging from packaged and prepared foods to fresh produce. They source their products locally whenever possible, supporting local farmers and promoting sustainability. Visitors can expect to find a selection of vegetarian meats, brown rice, local tea, Arabica coffee, wheat-made bread, low-sugar pastries, and cakes. Whether you're a local resident or a tourist, Health 100, 101 & 102 in Baguio is a must-visit destination for those who value healthy living.
Locations
---
Health 100
350 Magsaysay Ave
(074) 422 3446
0947 462 2985
Email
Breakfast, Brunch, Lunch, Dinner
Dine-in, Take-away & Delivery
Saturday: Closed
Sunday: 8:00 am – 5:00 pm
Monday: 8:00 am – 5:00 pm
Tuesday: 8:00 am – 5:00 pm
Wednesday: 8:00 am – 5:00 pm
Thursday: 8:00 am – 5:00 pm
Friday: 8:00 am – 5:00 pm
---
Health 101
Gladiola Building
Leonard Wood Road / Km 5, Brgy., Betag, La Trinidad
(074) 248 2218
(074) 422 2799
0921 713 4030
Website
Breakfast, Brunch, Lunch, Dinner
Dine-in, Take-away & Delivery
Saturday: Closed
Sunday: 7:00 am – 5:00 pm
Monday: 7:00 am – 5:00 pm
Tuesday: 7:00 am – 5:00 pm
Wednesday: 7:00 am – 5:00 pm
Thursday: 7:00 am – 5:00 pm
Friday: 7:00 am – 5:00 pm
---
Health 102
Palangdao Building / North Hills Building
Lower Basement, General Luna Street
0920 927 5038
0909 166 3699
Saturday: Closed
Sunday: 8:00 am – 4:00 pm
Monday: 7:30 am – 5:00 pm
Tuesday: 7:30 am – 5:00 pm
Wednesday: 7:30 am – 5:00 pm
Thursday: 7:30 am – 5:00 pm
Friday: 7:30 am – 5:00 pm
---
Owner