Health 100, 101 & 102 "Restoreants" are mostly vegetarian restaurants with a significant number vegan options. They do also serve some things with meat though. So vegans and vegetarians should be carefully when ordering, and ask when unsure.

The dining facilities are cafeteria style with reasonably-priced healthy food, and big servings.

They support buying local. So whenever possible their food is make with locally sourced food.
Juice & Shakes
They have a wide selection of healthy juices, juice blends and shakes to choose from.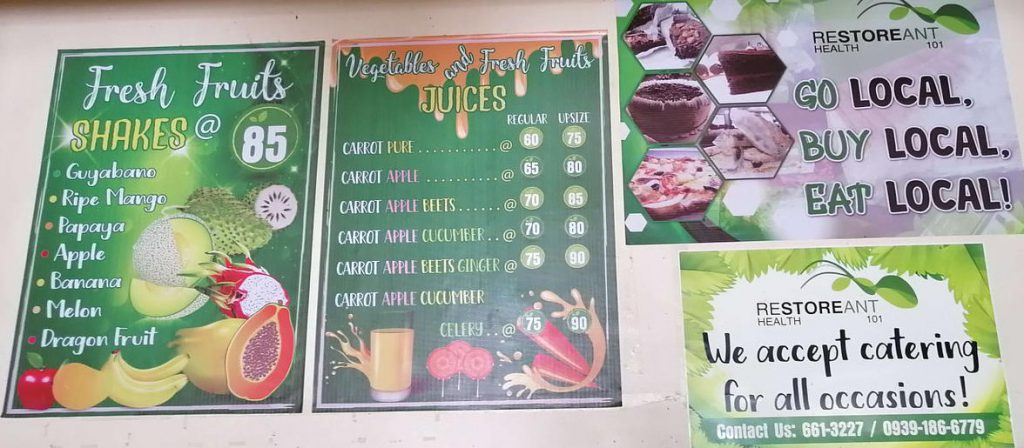 Groceries
Each location sells a variety of packaged, prepared, and fresh foods in addition to other health products. Sufficient to do some a bit of grocery shopping, especially good for vegetarians and vegans.
Some of the products include; vegetarian meats, brown rice, local tea, arabica coffee, wheat made breads, low sugar pastries and cakes. They make also have some produce available.
Locations
---
Health 100
350 Magsaysay Ave
(074) 422 3446
0947 462 2985
Email
Breakfast, Brunch, Lunch, Dinner
Dine-in, Take-away & Delivery
Saturday: Closed
Sunday: 8:00 am – 5:00 pm
Monday: 8:00 am – 5:00 pm
Tuesday: 8:00 am – 5:00 pm
Wednesday: 8:00 am – 5:00 pm
Thursday: 8:00 am – 5:00 pm
Friday: 8:00 am – 5:00 pm
---
Health 101
Gladiola Building
Leonard Wood Road / Km 5, Brgy., Betag, La Trinidad
(074) 248 2218
(074) 422 2799
0921 713 4030
Website
Breakfast, Brunch, Lunch, Dinner
Dine-in, Take-away & Delivery
Saturday: Closed
Sunday: 7:00 am – 5:00 pm
Monday: 7:00 am – 5:00 pm
Tuesday: 7:00 am – 5:00 pm
Wednesday: 7:00 am – 5:00 pm
Thursday: 7:00 am – 5:00 pm
Friday: 7:00 am – 5:00 pm
---
Health 102
Palangdao Building / North Hills Building
Lower Basement, General Luna Street
0920 927 5038
0909 166 3699
Saturday: Closed
Sunday: 8:00 am – 4:00 pm
Monday: 7:30 am – 5:00 pm
Tuesday: 7:30 am – 5:00 pm
Wednesday: 7:30 am – 5:00 pm
Thursday: 7:30 am – 5:00 pm
Friday: 7:30 am – 5:00 pm
---
Owner