Natural Setting
The Manor is one of Baguio's top luxury hotels. Surrounded by pine trees with an interior and exterior that has a true mountain lodge look to it. Beyond the building the grounds are well manicured with distinctly natural feel. There is even an exceptionally beautiful distant mountain view right from the Manor's grounds.
Comfortable and Cozy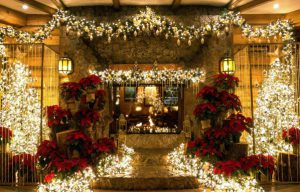 There is a fireplace in the Piano Bar lounge area. The fire can be viewed from the Lobby and the lounge area. The lounge has excellent entertainment in the evenings. A nice place to enjoy a wide variety of beverages, and baked goods from the Manor's own bake shop while listening to the performers.
Vegan Friendly Fine Dining
For fine dining at there is Le Chef which is owns and operated by renowned chef, Billy King. Another nice thing is that Mr. King has vegan family members, so he's always happy to prepare vegan dishes on request.
Surreal Feeling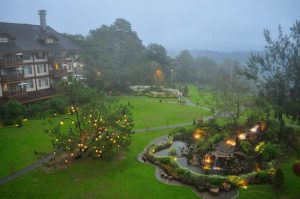 When you are at The Manor, you'll feel like you've been transported somewhere completely different. It's a lot like being up in the mountains of Vermont, Colorado or Central Europe. It's one of the accommodations in Baguio that is so nice that you could easily enjoy your entire Baguio stay without leaving the hotel.
Everyone Welcome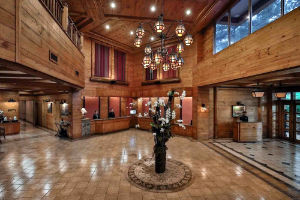 You don't need to stay at The Manor to enjoy The Manor. The Bake Shop, Le Chef, Piano Bar, are all open to the public to come and enjoy. The Manor also does a great job with seasonal decorations, and holds special events like a Christmas and New Years show with fireworks.